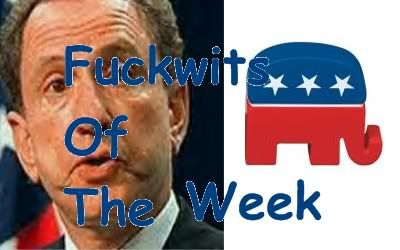 Who should be this week's Fuckwit of the Week?
•
The participants
in the alleged Mahmoudiya rape case. If these charges turn out to be true, these soldiers may be some of the vilest people on earth.
•
House Conservatives
for their online gambling legislation that may, or may not actually do anything.
•
Arlen Specter
for his NSA Wiretapping legislation, which doesn't really do anything but legalize the current illegal program.
The poll will close on Thursday at midnight, and it located at the bottom of the right sidebar.
Tags: Fuckwits Of The Week•Mahmoudiya•Republicans•Arlen Specter