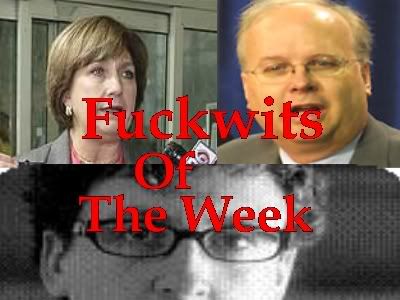 I
've decided to start a weekly poll called "Fuckwit of the Week", where the readers of BTL will pick which newsmaker from the prior week is the biggest fuckwit. I think it should be fun and interesting.
Each Sunday night (Monday night this week, seeing as I didn't decide to do this until five minutes ago) I will post the poll featuring the prior week's newsmakers. Readers will have until Thursday to vote, and then I will announce the winner on Friday.
This week's nominees are:
Louisiana Governor Kathleen Blanco - Her signing of an
abortion trigger law
shows that nutty Christianist pandering is a disease that can inflict members of either party.
Jason Leopold - Hell, he just seems like an overall
douche bag
Karl Rove - He loves his pot, and loves to give a
big fuck you
to the American people anytime he can.
Vote At The Very Bottom Of This Page