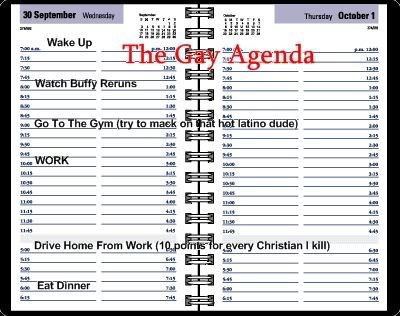 CNN
has published the superduper secret gay agenda. For years, whispers of its existence have flown around the right side of the political debate, but finally, we have confirmation on what them gays are actually up to.
But I would be lying if I said that we don't have an agenda -- we do, and this is it:

1. A good job, where workers are respected for the work they do, are treated fairly and offered equal benefits

2. A safe home. So that we and our families can live in a community without fear of hate crimes and persecution

3. Fair and quality health care so that we have the ability to take care of our loved ones

4. And the right to be in a committed and legally recognized relationship that includes the same legal protections and rights offered to every other American -- no more, and no less.
Time has a way of eroding bigotry and prejudice. As a society becomes better educated, they drop their prejudices against [insert random minority group here], realizing that they are based off untruths.
Gay discrimination still takes place, because not all politicians have embraced equality for homosexuals. Until they back equality, this bigotry will continue to stain our country. I'm glad to see that the private sector is leading this evolution/revolution. Soon, politicians will not be able to ignore what is right.
Other Bloggers
:
Pittsburgh Lesbian Correspondents
,
HuffPo
**Check out BTL's Contributor Call

***Vote for the Fuckwit of the Week
Tags:Fortune 500 Human Rights Gay Rights Gay Homosexuality Republican Bigotry Gay Agenda